The PlayStation Event has shown us a great indicator on what to expect in the next generation of gaming.
The PS4 console is set to release Holiday 2013 and is built specifically for developers and gamers; this includes allowing developers to develop whatever they please on a blank canvas and with ease. This also means the gamers benefit as the PlayStation 4 will have the advantage of becoming the lead console for development teams for multi-platform games.
The Specification
The PS4 has been described as a 'developer's dream' as it has great processing power, graphical power and memory. The PS4 boasts 8GB GDDR5 memory, X86 architecture, supercharged CPU, enhanced PC GPU and a local hard drive. Which sounds like an absolute beast!
PS4 Social Aspect
The PS4 also showed off its social support via Netflix, Amazon Instant, PS+ and Facebook.
The PlayStation event also showed us a glimpse of the PS4 interface showing the PlayStation store: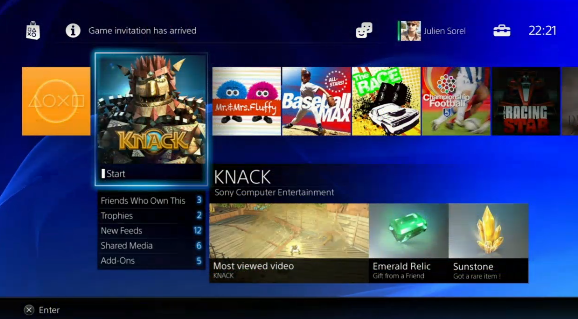 Dual Shock 4 Controller
Along with the console the latest controller was also shown off – the Dual Shock 4. This controller is wireless (most likely via Bluetooth) has a touch-pad as indicated by previous leaks and has a new share button! This share button is used to take photos and videos of games whenever you please and share it on social networks such as Facebook.
The Dual Shock 4 is pictured below: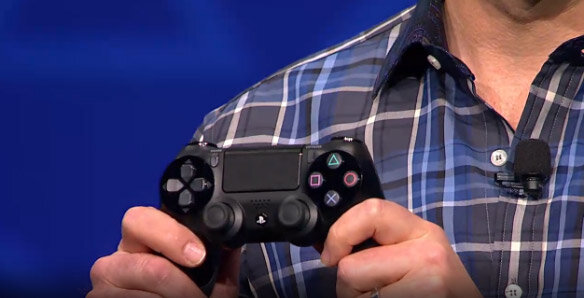 As you can see there is also a light sensor at the top used with a camera peripheral which is used to recognise the player (like the PS-Move controller).
PS4 Games
Many games were also announced for the console such as:
– Killzone Shadow Fall
– Drive Club
– Knack
– Infamous: Second Sons
– The Witness
– Deep Down
– Watch Dogs
– Diablo III
– Destiny
– Final Fantasy
We should expect to see more games for the PlayStation 4 this upcoming E3 along with a glimpse of the actual console which was a no-show in the PlayStation event.